See
Jen
for more Quick Takes!
***This post is part of my 40 Things I Love About Catholicism series. Click here to read more!***
I'm once again combining quick takes with my
Lenten series featuring Catholic beliefs, traditions, and moral teachings
. This week, I'll be looking at the Way of the Cross, a Catholic devotion that prayerfully remembers Jesus' suffering and death. Every Catholic church (that I know of) has the stations depicted somewhere. The Way of the Cross consists of fourteen stations, so I will be featuring two stations for each take. No writing here, just various images to reflect upon.
We adore you, O Christ, and we bless you: Because by your holy cross you have redeemed the world.
-1-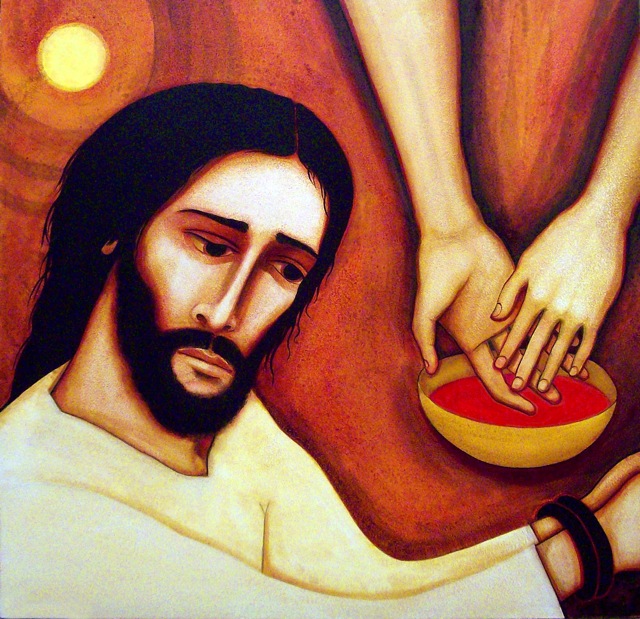 1. "Jesus is condemned to death." Artwork by Michael D. O'Brien.
2. Jesus takes up his cross.
-2-
3. Jesus falls the first time.


4. Jesus meets his mother Mary. Artwork by Br. Mickey McGrath, OSFS.
-3-
5. Simon of Cyrene helps Jesus carry his cross.


6. Veronica wipes the face of Jesus. Image from the movie Jesus of Nazareth.
-4-
7. Jesus falls the second time.
8. Jesus meets the women of Jerusalem.
-5-
9. Jesus falls the third time.
10. Jesus is stripped of his garments.
-6-
11. Jesus is nailed to the cross.
12. Jesus dies on the cross.
-7-
13. Jesus is taken down from the cross. Artist: Michelangelo (Pieta)
14. Jesus is laid in the tomb. Artist: Wilhelm Mengelberg.