***This post is part of my 40 Things I Love About Catholicism series. Click here to read more!***
"I suppose you think I ought to be a golden-haired baby-face with no body and two useless little wings?"

Charles Wallace stared at the great creature. "I might be simpler if you were." -- From Madeleine L'Engle's A Wind in the Door
It is difficult -- well, really impossible -- for us to conceptualize angels. They are pure spirit, but that's not something you can really depict in art. When one really contemplates their office, however, the idea of portraying them as chubby babies with wings does seem rather ridiculous.
Julie notes in her post about angels
:
An important thing to remember about

angels

is that they are terrifying. I am not sure when

angels

started to be domesticated, but nearly every time one appears in the Bible, the humans are frightened. So much so that

angels

had to start saying phrases like, "Fear not!" and "Do not be afraid, for you have found favor with God."
The Catechism defines angels succinctly: "
Angels are spiritual creatures who glorify God without ceasing and who serve his saving plans for other creatures" (CCC 350). Angels are more glorious and perfect than all visible creatures, including humans (CCC 330).
Angels have been a part of our salvation history since the very beginning. Their work can be seen throughout the Old Testament and especially in the New, announcing the Incarnation of Christ, protecting Jesus as a baby, serving Him in the desert, strengthening Him in the garden at Gethsemane, and announcing His resurrection (CCC 332, 333).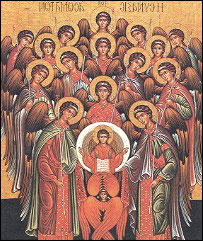 In fact, the Catechism asserts that Christ Himself is "the center of the angelic world":
They are his angels: "When the Son of man comes in his glory, and all the angels with him..." They belong to him because they were created through and for him: "for in him all things were created in heaven and on earth, visible and invisible, whether thrones or dominions or principalities or authorities - all things were created through him and for him." They belong to him still more because he has made them messengers of his saving plan: "Are they not all ministering spirits sent forth to serve, for the sake of those who are to obtain salvation?" (CCC 331)
We join with the angels during the Mass to praise God ("Glory to God in the highest" and "Holy, holy, holy, Lord God of hosts"), and we ask for their assistance, which they are constantly giving us (CCC 335).
Most Catholics also believe in guardian angels. It is not a doctrine of the faith, but something that has been taken for granted since the earliest days of Christianity. Jesus says, "
See that you despise not one of these little ones: for I say to you, that their angels in heaven always see the face of my Father who is in heaven" (Matthew 18:10). From this statement, the Church has inferred not only the Old Testament assumption that angels are God's ministers who sometimes attend to and protect particular people, but that each person has a particular angel from childhood.
"From its beginning until death, human life is surrounded by their watchful care and intercession" (CCC 336)
I love angels because they remind me of how truly glorious and awesome our God is. To quote
Julie
yet again:
But our God is an awesome God - awesome in the "awe-inspiring" way. God is not our bro. God is not our homeboy. God is the Almighty one - the Alpha (first) and the Omega (last) - the one who is, the one who was, the one who will be (Revelation 1:8).
God is not a grandfatherly old man with a long white beard, twiddling this thumbs as He whiles away the day on His throne. He is the almighty, the infinite, the holy trinity, the eternal, the one Who is, always has been, and always will be, and He is always surrounded by countless creatures forever singing His praise. He constantly directs these creatures be messengers to and protectors of us. How amazing is that?