Much more quick take action at
Jen's
! (Thank you to our hostess!)
1. Remember how I wrote that we were going to Washington D.C. this weekend? Well, here's the forecast:
We're not going to Washington D.C. this weekend.
2. Not that it's much better here. Our house was 87 degrees yesterday. And it was 100 outside. I pray it doesn't get that bad again today!
3. I must sorrowfully admit that I'm not a huge fan of Rebecca Black's new single,
"My Moment."
I find that it lacks the singability factor that made "Friday" so infectious. I'm still a fan of Rebecca, though! :)
4. We're working on the baby's sleep situation. Thus far, it's been going well! Up until this point, she was waking between 2-3 AM every night for a feeding, after which she would always just sleep with us, because we were too tired to deal with anything else. She would then wake up at least one more time (and sometimes 3-4 more times) for another nursing session before actually getting up for the day. It was really wearing me out. We'd like to wean her off the night feedings entirely, but we're taking it one step at a time. The last few nights, our first step has been to put her back in her crib after the first feeding. She cries, but it hasn't been nearly as bad as we anticipated (just 10 minutes the last couple nights!). And then she doesn't get up again until it's time to wake up for the day! Tuesday night was the first night we tried it, and I honestly couldn't believe how much more well rested I felt on Wednesday. Better than I have in months. I can't wait to have my first uninterrupted night's sleep of 2011. It's coming!!! Before too long, I hope!
5.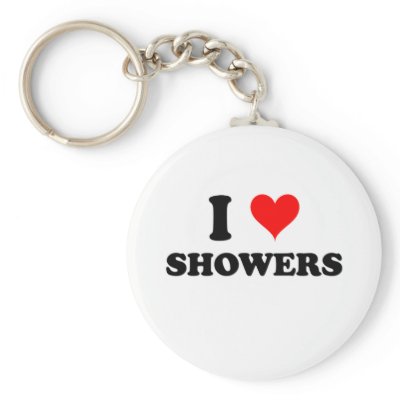 Showers are amazing. Absolutely amazing. Sometimes, when I'm basking in the glow of a recent shower, I think about how incredibly blessed I am to live in the present day. (Then I wonder if God thought, "Well, this one's too much of a pansy to live without indoor plumbing, so I'd better have her be born to an American family in the 1980s.") Just think: for most of human history, showers simply didn't happen. And we take them for granted!
6. Here's my free hint of the day: don't do a Google image search for "I love showers." At least not with SafeSearch Moderate.
7.
NFP Awareness Week
starts on my birthday this year! I'm hoping to do some NFP-related posts next week. Yippy-skippy!
Fun, fun, fun, fun, looking forward to the [insanely hot] weekend!!!!!